Husom & Rose Scanning
With over 20 years of experience in film and print scanning, we have scanned literally thousands of film originals from 35mm to 8X10 and prints from wallet size to 24X30 in black and white and color. All scans are color balanced and dust spotted. Quantity discounts are available.
35mm Film Scanning
35mm Film Scanning: Scitex-Leaf for 35mm. This is the only scanner ever made that does a true black and white scan. It is also optimized for color negative film as well as slides. It is still considered one of the best film scanners ever made and our years of using it have confirmed that. Files are normally 90 megabytes.
Film Scanning 120 to 11X17
Sheet Film Scanning: Scitex EverSmart Pro for historic film size up to 12X18, and modern sheet film from 4X5 to 8X10. This scanner is phenomenally sharp. The quality blows away any other flatbed and outdoes most drum scanners without the dangers of mounting damage. Files are normally 150-300 megabytes but can go higher if needed.
Print Scanning
Vintage prints. We are experts in handing fragile material and are often the only lab allowed to handle images from historic collections. We have two flatbed scanners dedicated to prints and flat art work. Files can be virtually any size as needed.
35mm Slide Scanning
Gang Scanning of 35mm slides. Many artists and photographers are sitting on boxes and trays of 35mm slides of their work. We can produce medium resolution files from slides to use as digital files for small prints, websites and email, or submission to galleries, grants and competitions. Files normally in the 8-12 megabyte range.
Prints from Scans
We can print from vintage negatives, slides or vintage prints in all sizes and formats. We can also work from your digital files of historic images. With our Ultrachrome K3 printing technology we can print in a range of black and white tones from soft sepia to cold toned blue. We are experts at color matching not just color images, but the various shades of black and white.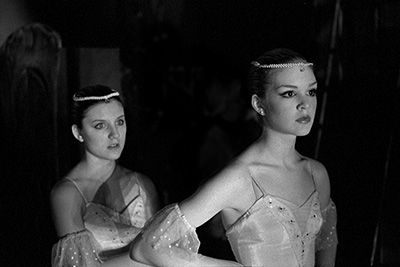 William Pringle Rodman, scan of 35mm negative. Printed 20X30
Contact us for a price list or more information. Or better yet call for an appointment at 715.792.5556 if you are in the Minneapolis - St. Paul Minnesota area, or in nearby Wisconsin or Iowa, to find out how we can help you. We are often available at night and weekends in addition to normal business hours to best work with your schedule. Or call or email your needs and interest and we can discuss how we can help you with your scanning needs.
Call us at at: 715.792.5556 or you can e-mail us at: info@husomandrose.com for more information.